The decision to study abroad is one that captures the thoughts of many students, as it is considered a pivotal choice that requires careful consideration and raises questions about the anticipated educational future. Students have chosen various countries as educational destinations in search of better educational and career opportunities.  
Among these countries is Turkey, which has become a leading host for many international students from around the world. In the academic year 2022-2023, the number of international students reached approximately 35,688 from various nationalities. In this article, I will take you on a journey to learn more about studying in Turkey and find answers to many of your questions.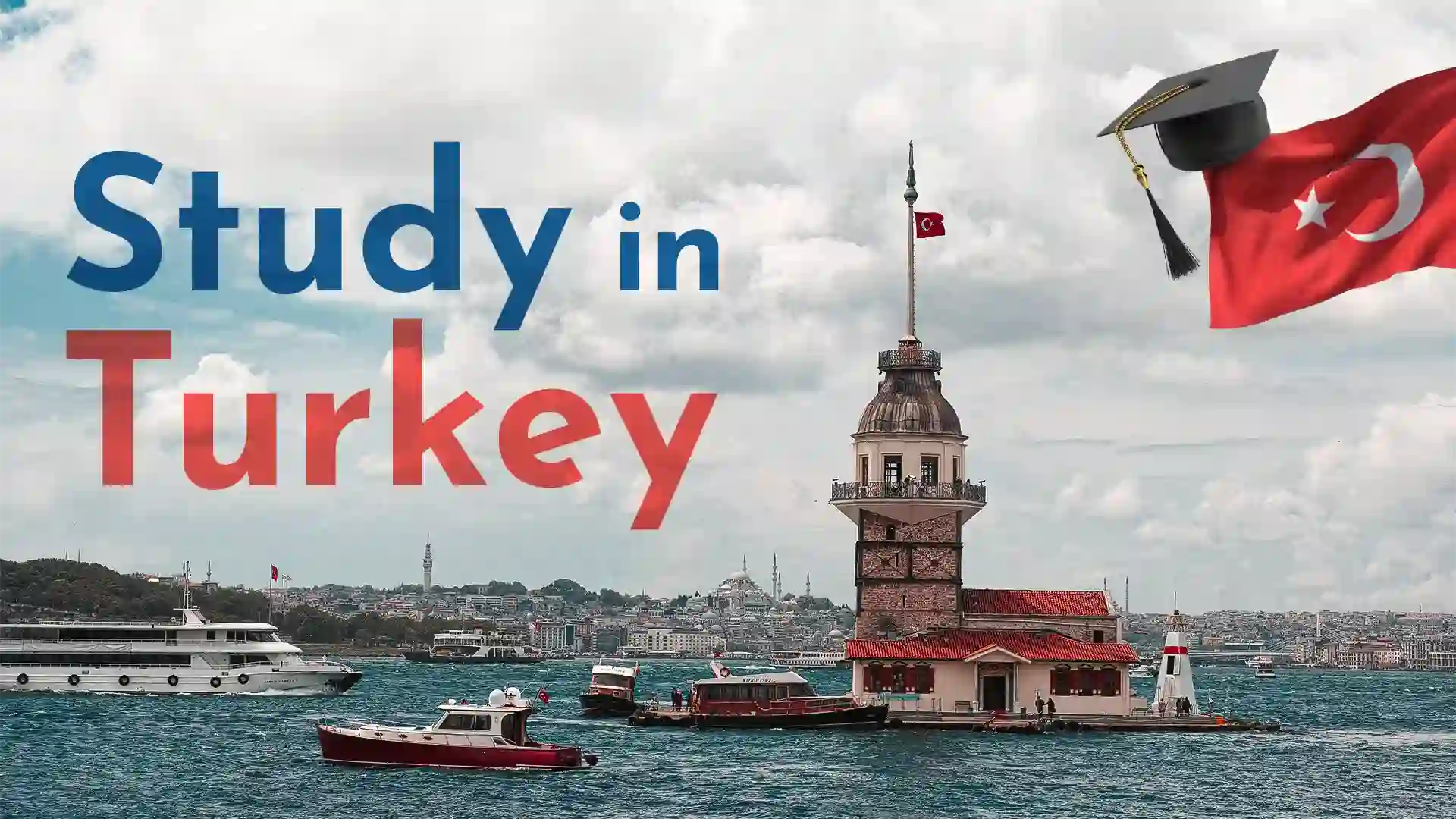 Overview of Studying in Turkey 
Turkey is a modern and thriving educational hub, offering a wide range of specializations and academic programs in various fields. It is one of the countries that opens its doors every year to welcome foreign students from around the world, representing diverse nationalities.  
Turkey is home to 200 universities, including 138 public universities and 62 private universities. It ranks second globally in terms of access to higher education, with a 94.2% enrollment rate in higher education. Turkey has actively implemented the Bologna Process for higher education in Europe and has received a perfect score of 5 out of 5 in the Bologna evaluation.  
Several factors have contributed to the international reputation of Turkish universities, including their continuous efforts to equip laboratories, research centers, and provide the latest global scientific research techniques. They emphasize the exchange of experiences between local and international academic staff.  
These efforts have rapidly propelled Turkey to the forefront in terms of global education quality. Moreover, many programs are offered in English in addition to the Turkish language. Turkish universities offer approximately 135 undergraduate specializations, covering a wide range of fields including medicine, engineering, sciences, languages, law, music, arts, educational and psychological sciences, agriculture, information technology, and business administration, catering to the diverse academic interests and inclinations of all students. 
Pros and Cons of Studying in Turkey 
Turkey, with its unique geographical location and stunning nature, offers a great opportunity to be an educational destination for international students and a country that provides an enjoyable and exciting academic life experience. Academic life in Turkey has many elements that make it unique and add a special character to students' experience. 
One of the prominent aspects of academic life in Turkey is cultural and social diversity. Students from different countries and cultures live in Turkey, creating a diverse and vibrant environment. Students can meet new friends from different cultures, exchange ideas and experiences, which helps broaden their horizons and develop cultural understanding. 
Turkey also boasts a modern university environment and advanced educational facilities. Universities have various laboratories, workshops, libraries, and research centers that provide students with opportunities for practical learning and exploration. Additionally, some universities offer sports, cultural, and artistic activities that contribute to the development of students' hobbies and personal talents. 
Academic life in Turkey is not limited to classrooms only but also includes numerous social and cultural events. Students can participate in festivals, art performances, seminars, and conferences organized within and outside the universities. These events contribute to enhancing communication and exchanging experiences between students and the academic and cultural community in Turkey. 
Furthermore, Turkey provides fantastic tourism opportunities for international students. Students can explore the historical cities and enchanting natural sites the country has to offer, such as Istanbul, Cappadocia, Antalya, and many other destinations. These tourism experiences enrich students' personal culture and give them a chance to explore and experience all of Turkey. In summary, academic life in Turkey combines quality higher education, cultural diversity, social and cultural opportunities. It is an opportunity for students to have a comprehensive and enjoyable experience that contributes to their academic and personal growth, paving the way for a bright future. We can highlight several positive aspects of studying in Turkey: 
Diverse specializations: Turkey offers a wide range of academic disciplines and specializations in fields such as medicine, engineering, social sciences, arts, business administration, and more. Regardless of your interests and inclinations, you will find multiple options that meet your academic and professional needs. 
Quality education: Turkish universities have a good reputation and offer high-quality academic programs. Many leading universities in Turkey are internationally recognized and rank highly in global university rankings. 
Reasonable costs: Compared to many other countries, the cost of studying in Turkey is relatively reasonable. Tuition fees at public universities are usually much lower than those in other countries, and there are diverse options for scholarships and financial aid for international students. 
Diverse cultural experience: Turkey enjoys wonderful cultural diversity, allowing you to learn about different cultures and interact with students from various countries. This provides an opportunity to expand your cultural and social horizons and develop strong international networks. 
Outstanding geographical location: Turkey is strategically located between Europe and Asia, meaning you will be close to a diverse range of exciting tourist and cultural destinations. You can explore beautiful Turkish cities, historical sites, and breathtaking nature during your free time. 
Job opportunities: Turkey offers good job opportunities in various sectors such as technology, tourism, industry, and commerce after graduation. The Turkish economy is one of the largest in the world, which means there are promising prospects for working in the country. 
Certainly, any student's study experience may have both positives and negatives, and we can mention some of the drawbacks that many students have agreed upon during their study journey in Turkey, including: 
Language: The Turkish language is the official language of education in Turkey, and fully benefiting from academic programs may require proficiency in the Turkish language. You may need to learn the language before studying or enroll in language courses to improve your language skills. It is worth mentioning that there are many programs offered in English as well. 
Cultural and adaptation challenges: Integrating into a new environment and a different culture can be a challenge for some international students. You may face difficulties in adapting to new customs, traditions, understanding the education system, and Turkish society. 
Financial challenges: Although the cost of studying in Turkey may be reasonable compared to some other countries, you may need to consider living expenses, accommodation, and personal expenses. You should plan your budget carefully and ensure the availability of necessary financial support before studying in Turkey. 
Restrictions on international students: You may encounter certain restrictions or challenges related to the status of being an international student, such as administrative procedures, visas, and residence permits. You should be prepared to deal with these restrictions, comply with legal requirements, maintain your legal presence, and fully adhere to the state's rules and regulations.  
Study Costs 
The difference in the exchange rate of the dollar directly and significantly affects your decision to study in Turkey. As you know, the Turkish currency is the Turkish lira, which has recently experienced a rapid and noticeable decline in its value against the dollar. The exchange rate of the dollar to the Turkish lira has reached approximately 23,300 Turkish lira.  
This plays a significant role if you are planning to spend dollars for studying in Turkey, and it gives you a great opportunity to take advantage of this situation in making your decision. The exchange rate of 100 dollars is approximately 2,300 Turkish lira in June 2023. Always remember, before any currency exchange, make sure to check the exchange rate online through the bank to avoid falling victim to any fraud or scam. We will provide you with approximate prices for studying at private Turkish universities in 2023. 
Specialization 

Language 

Price 

Bachelor of Interior Architecture 

Turkish\English 

1950-11250$ 

2250-16000$ 

Bachelor of Architecture 

Turkish \ English 

1950-16000$ 

2950-16000$ 

Bachelor of Biomedical Engineering 

Turkish \ English 

2000-2450$ 

3850-12500$ 

Bachelor of Chemical Engineering 

Turkish \ English 

2450-3000$ 

4500-9800$ 

Bachelor of Civil Engineering 

Turkish \ English 

2000-7000$ 

4000-16000$ 

Bachelor of Electrical and Electronics Engineering 

Turkish \ English 

2000-35000$ 

2250-16000$ 

Bachelor of Computer Engineering 

Turkish \ English 

2000-11250$ 

2000-5778$ 

Bachelor of Software Engineering 

Turkish \ English 

2000-9800$ 

2250-2752$ 
Bachelor of Mechanical Engineering 

Turkish \ English 

2250-16000 

Bachelor of Automotive Engineering 

English 

4800-9800 

Bachelor of Mechatronics Engineering 

Turkish \ English 

2000-3500 

2750-19500 

Bachelor of Medicine 

Turkish \ English 

12000-22000 

15000-43000 

Bachelor of Dentistry 

Turkish \ English 

9500-20000 

9500-34000 

Bachelor of Pharmacy 

Turkish \ English 

6500-14000 

6500-22000 

Bachelor of International Trade and Business 

Turkish \ English 

1950-3500 

2450-16000 

Bachelor of Business Administration 

Turkish \ English 

1950-4000 

2000-16000 

Bachelor of Law 

Turkish \ English 

2000-16000 

6000-6600 

Bachelor of Nursing 

Turkish \ English 

2000-7000 3150-9800 

Bachelor of Radio, Cinema and TV 

Turkish \ English 

1950-6000 

2950-11500 

Bachelor of Physiotherapy and Rehabilitation 

Turkish \ English 

2000-6600 

2000-9800 

Bachelor of Music 

Turkish \ English 

1950-8200 

6000-6600 

Bachelor of New Media 

Turkish \ English 

1950-6000 

2950-11250 

Bachelor of Sociology 

Turkish \ English 

2000-6600 

2950-9000 

Bachelor of English Translation and Interpretation 

English 

2000-9800 
Public Universities VS Private Universities  
| | | |
| --- | --- | --- |
| Comparison  | Public Universities  | Private Universities  |
| Number of Universities  | 138  | 62  |
| World Ranking  | Dominates private universities, ranking 1st, 2nd, 3rd  | Ranks 7th, 8th, 15th  |
| University Acceptance Opportunities  | Higher and tougher admission requirements, competitive based on merit  | Lower and easier admission requirements, less competitive  |
| Tuition Fees  | Symbolic, ranging from $200-500 annually, varies for medical specialties  | $2500-8000 annually, varies for medical specialties  |
| Language of Instruction  | Turkish and some programs in English  | Turkish and English  |
| Number of Students  | Larger number of students  | Fewer number of students  |
Required Documents to Apply for Turkish Universities 
Public Universities 

Private Universities 

- Valid Passport Photo 

- Copy of High School Certificate (Baccalaureate, Tawjihi, etc.) and its translation in English and Turkish 

- Equivalence of High School Certificate from the Ministry of Education 

- Copy of Transcript and its translation in English and Turkish 

- Minimum cumulative GPA of at least 60% in most universities 

- (YÖS) or (SAT) Exam Result 

- English Language Proficiency Certificate (TOEFL, IELTS) demonstrating your proficiency in English or Turkish Language Test (depending on university requirements) 

- Valid passport photo 

- Copy of General Secondary Certificate (Baccalaureate, Tawjihi, etc.) and its translation in English and Turkish 

- Equivalence of General Secondary Certificate from the Ministry of Education 

- Copy of Grade Statement and its translation in English and Turkish 

- Minimum cumulative grade point average (GPA) of not less than 60% in most universities 
Types of Higher Education Institutions in Turkey 
College:

A department that provides higher education, scientific research, and publication. It may have various departments and programs, and students obtain a bachelor's degree at the end of a program that lasts at least four years.

Graduate School:

An institution within universities that focuses on higher education, research, and scientific applications. Graduate schools grant master's degrees with and without a thesis, as well as doctoral degrees.
Four-Year School: A higher education institution primarily focused on providing education for a specific profession, with studies lasting for eight semesters.

Music Institute:

A higher education institution where artists are trained in music and performing arts. The educational program typically lasts for eight semesters.

Vocational High School:

A higher education institution aimed at training individuals in specific professions, providing education for four semesters.

Research and Application Center:

A higher education institution that conducts research and applied studies to meet the needs of various fields, providing preparatory activities and support for different professional areas, with the goal of supporting education in higher education institutions.
Academic Degrees in Turkey 
Fellowship Degree (Short Course):

Awarded upon completion of a two-year study program. Fellowship programs are offered by universities and professional schools after high school. Some distance learning programs are also available. Fellowship programs may require practical training during the study period.

Bachelor's Degree (First Cycle):

Awarded after completing a four-year program and a specified number of credit hours (240 ECTS) of study. The duration of study in dentistry, veterinary medicine, and pharmacy is five years, while medicine requires six years. Qualifications in these four fields are considered equivalent to a master's degree.

Master's Degree Program (Second Cycle):

A two-year program leading to a Master of Arts (MA) or Master of Science (MS) degree. There are two types of master's programs, with or without a thesis. A thesis-based master's program is a two-year program generally consisting of a minimum of 120 credit hours (ECTS) of coursework followed by thesis submission. Non-thesis programs must be completed within one or one and a half years, requiring a minimum of 90 credit hours of coursework and a research project.

Doctorate Degree Program (Third Cycle):

Typically, an eight-semester program leading to a doctoral degree. It consists of courses with 180-240 credit hours, a proficiency exam, a research proposal, a thesis, and an oral defense. Upon successful completion of the program and the proficiency exam, students are required to submit and defend their thesis before an examination committee.

 Medical Specialization Programs:

Equivalent to doctoral degree programs, these are implemented in medical faculties, university hospitals, and research and training hospitals. For specialization in medicine, there is a competitive selection exam in various medical branches for medical school graduates. Specialized candidates are required to submit a thesis and defend it before an examination committee.

Proficiency in Art:

A post-master's program lasting at least six semesters in the fields of visual arts and performing arts, equivalent to a doctoral degree. It requires the submission of an original artwork or (in music and performing arts) outstanding creative performance. For more details about universities in Turkey, you can refer to the universities in Turkey.
We, at Turkey Campus, are your second family in Turkey, and we will always be there for you. We utilize all our knowledge, experience, and expertise to accompany you on this journey from the first step to the last step. We open our doors to welcome you throughout the year. Feel free to contact us for any free consultation provided by our specialized educational consultants, who will always guide you in the right direction with over 10 years of experience. Additionally, we offer various discounts for you. Best wishes for success and prosperity in your academic and professional journey!